Visit Us
---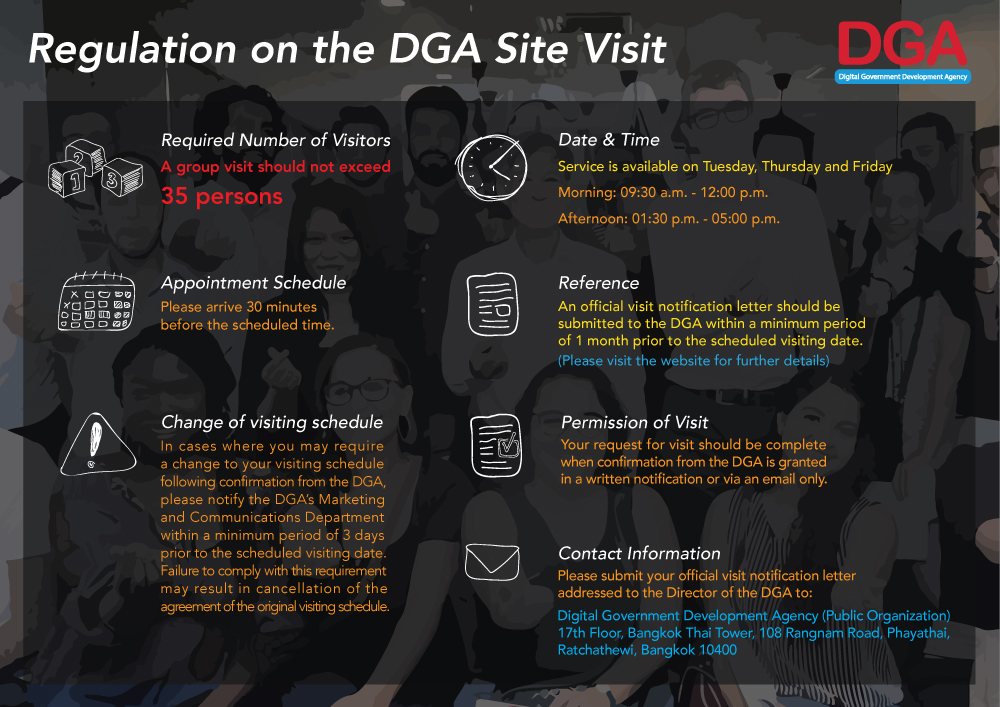 DGA welcomes group visits by officials from private and public sectors as well as members of the general public to provide an insight into our roles and responsibilities.
Procedures for visiting us
Required number of visitors
A group visit should not exceed 35 persons.
Date and time
Service is available on Tuesdays, Thursdays, and Fridays
Morning: 09:30-12:00 hrs.
Afternoon: 13:30-17:00 hrs.
Reference
An official visit notification letter should be submitted to the DGA within a minimum period of 1 month prior to the scheduled visiting date. (Please visit the website for further details)
Appointment schedule
Please arrive 30 minutes before the scheduled time.
Permission of visit
Your request for visit should be complete when confirmation from the DGA is granted in a written notification or via an email only.
Change of visiting schedule
In cases where you may require a change to your visiting schedule following confirmation from the DGA, please notify the DGA's Marketing and Communications Department within a minimum period of 3 days prior to the scheduled visiting date. Failure to comply with this requirement may result in cancellation of the agreement of the original visiting schedule.
Contact information
Please submit your official visit notification letter addressed to the Director of the DGA to: The Digital Government Development Agency (Public Organization) 17th Floor, Bangkok Thai Tower, 108 Rangnam Road, Phayathai, Ratchathewi, Bangkok 10400
For more information, please contact Tel: 02-612-6060 or contact@dga.or.th